Admissions Online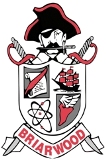 Welcome to Briarwood Academy and thank you for your interest.
How to Apply
Applying is easy using our Online Application. We encourage families to apply online as it simplifies submission and provides parents a tool for tracking online the status of their admission after their application has been submitted.
Create an Online Application
To begin the Online Application process,
Create an Account
. Then log in to your account and
Create A New Student Application
for your child. You will then have the flexibility to log in and out of your account and access your open application.
After submitting the application, you will be able to track online your admissions status at the school by logging in to your account.
If you have any questions about the process, please contact me at 706-595-5641.
Sincerely,
Clayton Parrish
Headmaster
parrishc@briarwoodacademy.com